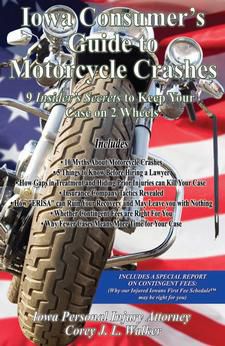 If you or a loved one has been injured in a motorcycle accident you should know that motorcycle accidents are different than car and other injury accidents. You should know how motorcycle laws work and how they affect you and your case. Most attorneys require you to make an appointment in order to get some of the information that we have provided in our books. We believe that you should be able to have this information when you need it without any pressure. We want you to have the information you need before you decide if you need an attorney for your case.
What other Iowans say about our book?
"It has a lot of great and well explained information." Kyle of Des Moines, IA
"Incredibly comprehensive and far exceeded my expectations." Craig of Evansdale, IA
"It contains the information you haven't thought of or just didn't know about." Edward of Cedar Falls, IA
Why offer a Free Book? For more than 25 years Iowa Personal Injury Attorneys Corey Walker and Erik Bair have represented hundreds of injured Iowans including many injured in motorcycle accidents. They have seen too many clients make mistakes before they had the "right" information resulting in them losing thousands of dollars.
When you receive your book, you will also receive reports from real past clients and attorneys giving you their opinions about us, and more. Don't miss out on all the valuable information about how to protect yourself after an injury.
Our Guarantee to You: We are so confident that our book will help educate you that if you do not learn at least one thing, let us know and we will donate $1,000 to your charity of choice.