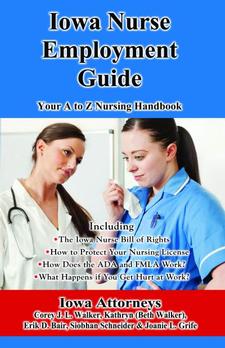 Your employer has an entire department, usually called Human Resources (H.R.), dedicated to dealing with employment issues for your employer. What can you do to protect your interests? Iowa nurses are beginning to realize that they should learn more about Iowa employment laws and not just take their employer's word for it.
"Every nurse should have this book." Ruth, RN of Des Moines
"Interesting read and must have information." Kimberly, RN-BSN of Grinnell, Iowa
"Every CNA in Iowa should have this book to protect their rights." Stephanie, CNA of Knoxville
Why Offer you a book at No Cost?
Our book is offered at
no cost
(while supplies last) because Iowa Attorney Corey Walker's grandmother Lucille Walker was a RN, he has listened to the stories of hundreds of nurses since 1997 and has seen the consequences of many who made common costly mistakes. Corey is committed to educating you, the Iowa nurse, so you can avoid making a mistake. If you don't care how your employer treats you and what your rights are, then this book is
not
for you. However, if you would like to know your rights and learn how you can protect yourself, then this book is for you. Finally, you have the right to learn about employment laws in the comfort of your own home with no risk or obligation. Join the hundreds of other Iowa nurses who already have the book
Our Guarantee to You- We are so confident that our book will help educate you that if you do not learn at least one thing, let us know and we will donate $1,000 to your charity of choice.
Request Your Free Book Now