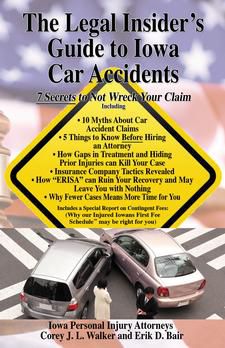 Writing these books gives us a chance to tell you what you need to know so that you can make an informed decision about what steps to take with your legal situation. Even if we do not accept your case, we would like you to be educated about the process so that you don't make a costly mistake.
What do other Iowans say about our book?
"Get the book to learn how to be protected when in a car accident." Ollie of Bedford, Iowa
"I would recommend the book to everyone injured in a car accident." Rod of West Des Moines, Iowa
"One of the best and understandable put together books I have ever read. Bar none." Harold of Davenport, Iowa
"Valuable information all in one convenient place which everyone can benefit from if in an accident."
Pam of Boone, Iowa
"Helps you know if you even need to hire an attorney." Darrell of Colfax
Why offer a Free Book? Together, for more than 30 years Iowa Personal Injury Attorneys Corey Walker and Erik Bair have represented hundreds of injured Iowans including many families of Iowans killed in car accidents. We have seen too many clients make mistakes before they had the "right" information resulting in them losing thousands of dollars.
When you receive your book, you will also receive reports from real past clients and attorneys giving you their opinions about us, and more. Don't miss out on all the valuable information about how to protect yourself after an injury.
Our Guarantee to You: We are so confident that our book will help educate you that if you have been hurt in a car crash and do not learn at least one thing, let us know and we will donate $1,000 to your charity of choice.
Request Your Free Book Now