What Will Happen When I Die?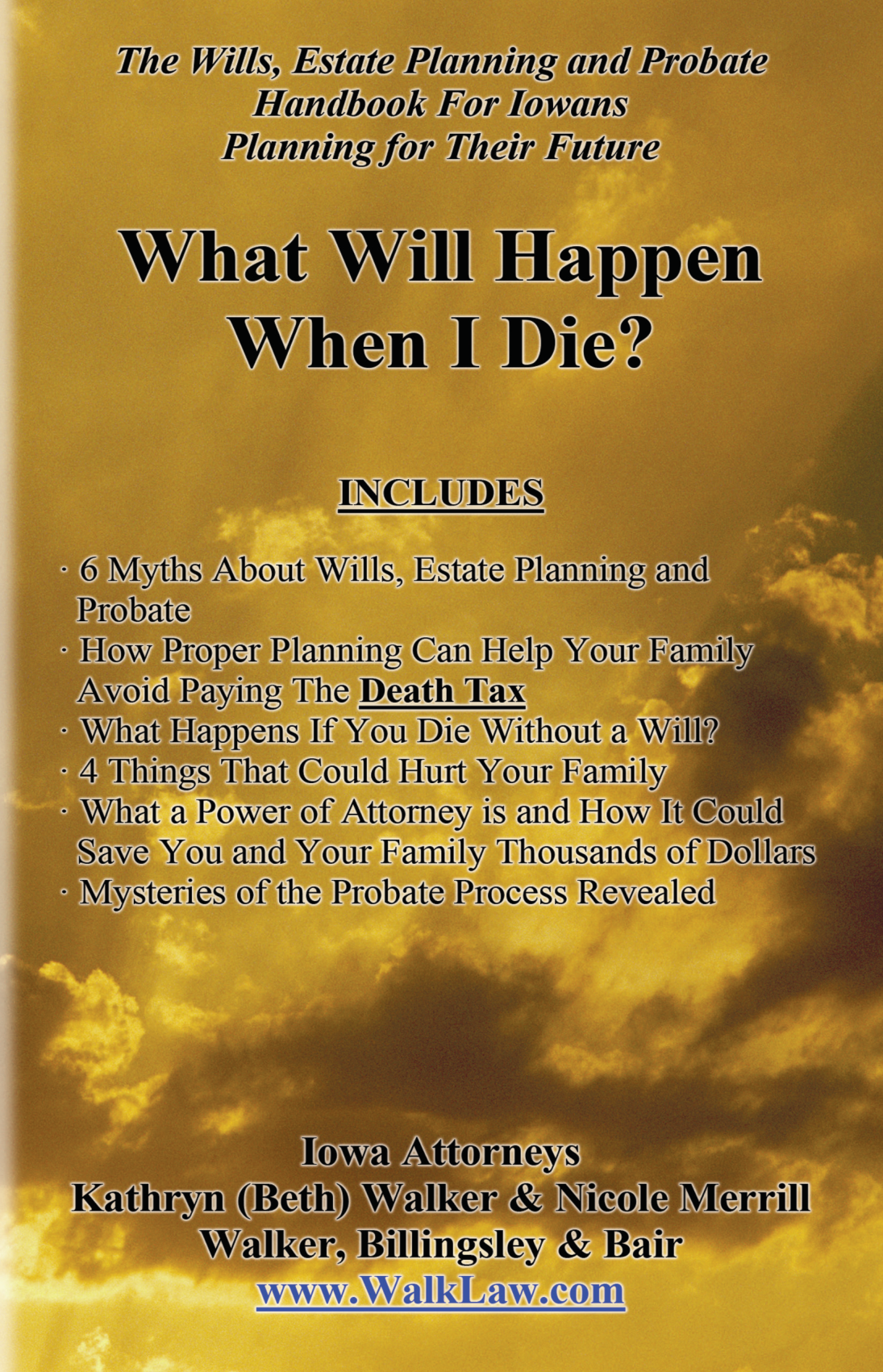 Our office offers complete legal services for all your estate planning and probate needs. Whether you are planning for the future with a will or power of attorney; or perhaps wrapping-up the financial affairs of a loved one, we have the attorneys and staff to handle your needs.
If you are thinking about a will or have been appointed as executor in an estate, you may be confused or worried about what steps to take next:

• Do I need a will and what happens to my assets if I die without a will?
• What is the difference between a will and a living will?
• Why should I have a power of attorney and what does that person do?
• Does the estate of my loved one need to be probated?
• How much does it cost and how long does it take to probate an estate?
Probate is the court action by which assets are transferred to heirs after a death according to the deceased's will or according to state law if no will was left. A full probate action can be costly and time consuming. Fees must be paid to the executor or administrator, and to the attorney representing the estate. Asset will not generally be distributed to heirs for six to twelve months, and complicated estates involve much longer delays.
Planning before death may allow a court probate action to be avoided. First, a living trust can be considered. This document provides for the transfer of assets directly to beneficiaries under the trust, without any court action. Second, a will with a minor's trust can be considered for small estates, with the thought of utilizing summary probate proceedings after death. Third, changes in the way you hold "title to property" may be considered, which would allow you to avoid having to include your real property in a probate action. Our office offers complete Wills, Estate Planning and Probate services along with various other services.
For more information on whether probate can be avoided in your particular situation, please contact our office.
The Wills, Estate Planning and Probate attorneys at Walker, Billingsley & Bair are dedicated to protecting the rights of Iowans throughout the State of Iowa. With offices in Des Moines/Urbandale, Ankney, Newton, and Marshalltown. We are located in Central Iowa, but represent clients throughout the state.
DISCLAIMER: The information you obtain at our firm web site is not, nor is it intended to be, legal advice. It is recommended that you should consult an attorney for individual advice regarding your own situation.