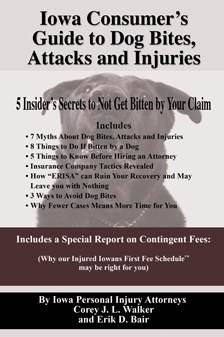 Most attorneys require you to make an appointment in order to get some of the information that we have provided in our books. We believe that you should be able to have this information when you need it without any pressure. Frankly, this method of talking to you also saves us time. We've packed a ton of information into this book and it saves us the hours of time that it would take each day just to talk to all of the new potential clients who call. So, rather than cut you short on the phone, writing these books gives us a chance to tell you what you need to know so that you can make an informed decision about what steps to take with your legal situation. Even if we do not accept your case, we would like you to be educated about the process so that you don't make a costly mistake.

If you or a loved one have been injured or bitten by a dog you should know that the laws are very different than in other personal injury cases. You should know how dog bite laws work and how they affect you and your case. For example, you may have one or more of the following questions:
Is it a good idea to provide a recorded statement to the dog owner's insurance company?
Do I have to prove that the dog bit someone before?
What 8 things should you do if bit by a dog?
How long will my case take to resolve?
What can an attorney do to help me with my case?
Will I get fairly compensated for my scarring?
How will I know if what the insurance company offers me is fair?
For the answers to these questions, 7 Myths about dog bites and much, much more order this FREE book to learn your rights and responsibilities. Why offer a Free Book? For more than 25 years Iowa Personal Injury attorneys Corey Walker and Erik Bair have represented hundreds of Injured Iowans including many hurt in dog and animal attacks. They have seen too many clients make mistakes before they had the "right" information resulting in them losing thousands of dollars. Finally, you can learn about dog bites and animal attacks in the comfort of your own home with no risk or obligation. Request your copy of our book now while supplies last. Simply provide us with your name, address, etc. below or call our toll free recorded message at 641-792-3595.

Our Guarantee to You: We are so confident that our book will help educate you that if you do not learn at least one thing, let us know and we will donate $1,000 to your charity of choice.