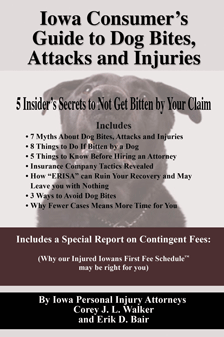 Most attorneys require you to make an appointment in order to get some of the information that we provide to you in our Iowa Dog Bite book. We believe that you should be able to have this information in the comfort of your own home. Iowa Personal Injury Attorneys Corey J. L. Walker and Erik D. Bair reveal what you should know to protect your rights.
What do other Iowans say about our book?
"Great and tells you a lot." Becky of Newton, Iowa
"Corey's book is very helpful and very informative." Janet of Ellsworth, Iowa
"
The book is very helpful and it makes everything clear on what to do and not to do
"
Tina of Monroe, Iowa
Order book at No Cost? We offer our Iowa dog bite book at no cost because we have seen too many Iowans bitten or attacked by dogs make mistakes which cost them thousands of dollars.
Our Guarantee to You: We are so confident that our book will help educate you that if you do not learn at least one thing, let us know and we will donate $1,000 to your charity of choice.