4 out of the 7 Deadly Mistakes to Avoid in Your Worker's Compensation Case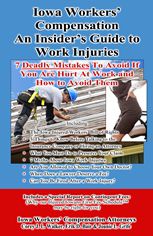 There are many mistakes that can cost injured workers thousands of dollars. Here is a list of 4 out of the 7 Deadly Mistakes that we, unfortunately, see frequently.
1. FAILING TO REPORT THAT YOU WERE HURT AT WORK- While this seems like a very basic thing, some workers hope that things will get better on their own and decide not to report their work injury. Failing to report that you were injured at work within 90 days of when you knew or should have known that your injuries were caused by your work can be deadly to your case. If you sustain a traumatic injury like in a fall, lifting something and your back goes out, etc. then you should immediately report your work injury. Sometimes, when your injuries occur over a period of time, what we call a cumulative trauma injury, then you may not immediately report your injury or may not know for sure if your condition is work related. As an example, if you end up seeing your family doctor for a medical problem and your family doctor thinks that your condition may be work-related, then you should promptly notify your employer.
2. NOT GOING TO THE DOCTOR EVEN THOUGH YOU ARE HAVING PROBLEMS- If you have been hurt and are having medical problems it is very important that you go see a doctor. If you do not go to the doctor and tell him/her that you are having problems not only will you not get the treatment you need, but it will make it much more difficult to prove that you have a work injury. Keep in mind that you will need to first try to go see the doctor that is authorized by your employer and/or their insurance company. If they refuse to see you, then you should consult with a qualified Iowa work injury attorney to find out what you can and should do next.
3. FAILING TO TELL THE MEDICAL PROVIDERS ABOUT ALL OF YOUR INJURIES- It is very important that you tell your doctors, nurses, physical therapists and other medical providers about all of the problems you are having. For example, if you are having pain and problems with your foot and your back, but only tell your medical providers about your foot, then not only will your back problems not be addressed, but they will not be in the medical records so if later on you report back problems, it will be much more difficult to relate those back problems back to your original work related foot injury.
4. NOT FOLLOWING UP WITH MEDICAL CARE- If you fail to see your doctors on a regular basis then this can be considered evidence that you are no longer having problems and perhaps made a full recovery. While you should not be going to the doctor every day, if your doctor tells you to "follow-up as necessary" this means that you should contact your doctor in a few weeks if your problems are not getting better. If you fail to follow-up regularly then you may cost yourself thousands of dollars in your workers' compensation case.
To learn the other Deadly Mistakes and how to avoid them along with the Iowa Injured Workers Bill of Rights and much more Then Click Here Now.
When you receive your book, you will also receive reports from real past clients and attorneys giving you their opinions about us, BONUS DVD's, and more. Don't miss out on all the valuable information about how to protect yourself after an injury.
Our Guarantee- We are so confident that our book will help educate you that if you have been hurt at work and do not learn at least one thing, let us know and we will donate $1,000 to your charity of choice.