Iowa Guide to Protecting Your Rights and Freedom If Charged with a Crime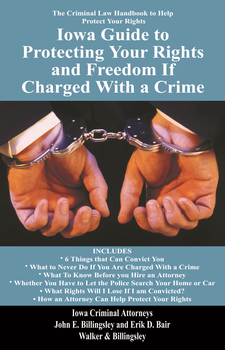 The attorneys at Walker, Billingsley & Bair practice criminal law matters because we believe that everyone is entitled to a fair trial and the best counsel. Those charged in American courts are presumed innocent until proven guilty.
Those charged in American courts are presumed innocent until proven guilty. At Walker, Billingsley & Bair, we do all that can be done in every case to require the government to prove its case or to release our client. Regardless of our client's exposure, we evaluate the evidence and the law before making any recommendation. While investigating the client's exposure, we continually prepare with an eye toward taking every case to trial. In other cases, the client must go to trial because the client is innocent or the government simply cannot prove guilt. If the client's exposure is too significant, we take a "damage control" approach (i.e., plea bargains or other mitigation at trial for a lesser included offense or a reduced sentence).In matters of criminal law, the client must choose experienced lawyers whom they trust. Walker, Billingsley & Bair offers you trust, confidence and experience required in these very critical situations.
Walker, Billingsley & Bair represents those charged with a crime and those under investigation in all phases of complex and routine criminal litigation and appeals in state and Federal Courts. Walker, Billingsley & Bair reviews all criminal law matters, for example: white collar, homicide or other crimes of violence, drugs, computer crime, sex crime, pornography, etc. We also routinely handle other quasi-criminal matters such as "expungement" cases (i.e., actions to "clean" a prior criminal record), appeals, and post-conviction actions and others.
If you have recently been arrested or charged with a crime you are probably confused or worried about what steps to take next:
How will I know that the lawyer I've chosen to represent my case is a competent lawyer and will know what to do?
How will I be able to know if I don't have a competent lawyer?
How much will it cost to defend my rights?
When should I be in court?
Our experienced criminal attorneys will ensure your rights are not violated. Many have worked as both prosecutors and defense attorneys. This gives them the advantage of knowing how both sides work to better serve you. Let one of our criminal defense attorneys explain your rights and assist you in resolving your criminal matters.
The Criminal Defense attorneys at Walker, Billingsley & Bair are dedicated to protecting the rights of Iowans throughout the State of Iowa. With offices in Des Moines, Ankeny, Marshalltown and Newton we are located in Central Iowa, but represent clients throughout the state.
DISCLAIMER: The information you obtain at our firm web site is not, nor is it intended to be, legal advice. It is recommended that you should consult an attorney for individual advice regarding your own situation.